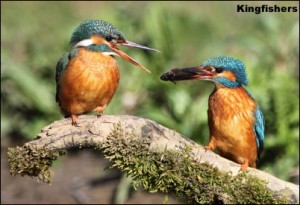 After more than forty years and hundreds of hours in my hide I have finally filmed the male Kingfisher offering the female a fish. It lasts only a couple of seconds and her acceptance of the fish binds  the pair together ready for breeding. Copulation usually follows and it did but I am saving those photos for the blog in a couple of weeks time – it will be well worth the wait! Click here
A week of brilliant weather has had me out every day and it looks like an exceptional breeding season helped by an explosion in vole numbers. Barn Owls, Long Eared Owls and Little Owls are all benefiting,  as have two pairs of Kestrels that I have also found.
Around one moorland reservoir two Grasshopper Warblers were reeling away as thirty Small Skipper butterflies were on the thistles. Redpolls seem to be everywhere. On the down side a Little Owl was a road casualty nearby.
At home four young House Sparrows are about to fledge which all helps the national plight of the House Sparrow. So much for the total insulation of our attic !