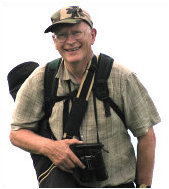 In 1972 I started making wildlife films and every year since I've managed to produce a one hour film. My films cover my local patch the Pennines, Scotland, in particular the Isle of Islay, a place very dear to my heart and I spend an average of nine weeks of the year there. Overseas destinations cover the Seychelles, Iceland, Greenland, Alaska and Spitzbergen. I love the high Arctic and even the life and death encounter with a Polar Bear while camping in Spitzbergen in 1997 has not put me off wanting to go again.
For more than 50 years I've been a member of the RSPB and this was recognised recently by an invite to their headquarters at Sandy, Bedfordshire for a commemorative buffet. I was also delighted to be made an Honorary Life member of three local wildlife groups in acknowledgement for my contribution to Wildlife Conservation through my films.
I have won several awards in still photography competitions with BBC television, RSPB, Scottish Wildlife and the Scottish Ornithologist Club using my old Pentax equipment. One of my proudest moments was when Granada television used ten minutes of one of my films.
I have been slow in converting to all this new digital technology but I am now the proud owner of a Canon EOS 7D digital still camera and a Canon XM2 digital camcorder.