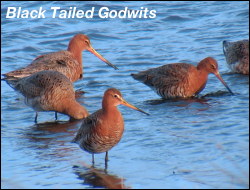 Yes our week on Islay started with a strong Northerly wind and volcanic dust and ended with the usual South Westerly wind and the wet stuff.
Thousands of Barnacle Geese were held up with the wind when we arrived and most only left on the twenty first of April. To get to Greenland they have to fly through the volcanic dust cloud and at present no one knows what the effects might be and whether or not they will make it. Whooper Swans have also been held up and there has been a great passage of Black Tailed Godwits – all waiting to fly to Iceland. Hundreds of Brent Geese have been passing through but as their route is to the Canadian Arctic they have not been affected as much by the volcano.
Despite the North winds we saw our first Cuckoo on the seventeenth and at least one Corncrake has now arrived. Hares were boxing well one morning and we had a good view of an otter on another.
Some good flocks of Golden Plover have been filmed, one flock consisting of five hundred birds. Hen Harriers are back on their breeding sites with all the Buzzards now incubating eggs. THe highlight of the week bird wise has been watching a male Short Eared Owl giving a spectacular wing clapping display over his breeding site. It is twenty years since I last enjoyed this spectacle but I have not forgotten how dramatic it was.
Flower wise it is going to be the latest season ever with most Primroses only just appearing as a result of the severe Winter that Islay has just had.