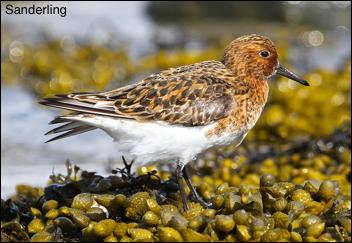 When you have a week on Islay in late May most of the high Arctic waders have already left on their long journey north. This week, with cool northerly winds, there have been small numbers of Sanderling waiting for more favourable conditions before heading north. Amongst these birds was one that had already moulted into its spectacular breeding plumage that is normally only seen on its breeding grounds. I make no apologies for including in this weeks gallery several photos of this immaculate bird that has now left to head north. Click here
On our daily travels around Islay it is pleasing to encounter hunting male Hen Harriers. On one day we watched five different males as they searched for prey for their partners and offspring. The low temperatures and heavy showers have not made hunting easy and it remains to be seen what effect this extreme weather for May will have on overall breeding success.
The big bonus with the cool conditions is that for the first time in living memory there have been no midges in May. How long will this last?