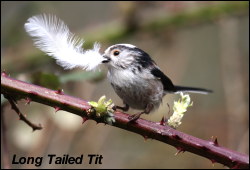 A wild and windy week but it has not stopped the Long Tailed Tits gathering feathers to line their nest's with. All six nests that I have found are now at this stage and when you consider that some one counted more than two thousand feathers inside a Long Tailed Tits nest they have some distance to cover in their search
Whilst in a local wood this week I noticed the face of a Fox inside a hole under an ivy covered tree. The fox left the hole which contained at least five cubs of about a week old and still with their eyes closed. Will she move them now her den has been discovered?
This week-end the garden has been superb with twenty three species being recorded. Included were Goldcrest, Sparrowhawk, Song Thrush, Willow Tit and twelve Greenfinches. A Long Tailed Field Mouse was sleeping inside one of the feeders after last nights frost!