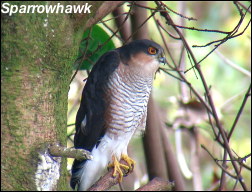 Now that full feeding has been restarted in the garden the male Sparrowhawk has returned, no doubt attracted by the increased number of small birds. During the week he was seen to fly off with a House Sparrow and probably caught other prey when we weren't watching.
On Hopwood, at dusk, I encountered a flock of seventy Redpolls, representing the largest flock of Redpolls I have ever seen. They were feeding in birches and looking to roost in some pines nearby. As I walked off in the semi darkness a Kingfisher was still present on a pipe over the stream. As far as I am aware there are no fish in the stream so may be he was roosting on the pipe for the night.
A search of a moorland plantation failed to find any Long Eared Owls. However, feeding on larch cones was a flock of more than one hundred Siskins which were a delight to watch as they extracted the seeds from the cones.
Along the canal one morning were six Long Tailed Tits and a Dabchick – the first I have seen on the canal for years.