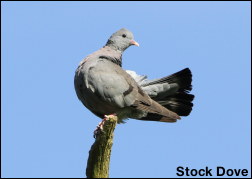 This week's photo is of a bird I have never captured on film before. You can never plan to go out and film a Stock Dove and the photo was taken when I was waiting for the juvenile Hobbies to land in the same dead tree. It would appear that the doves were nesting in the wood near by and used the dead tree before entering the wood giving me an unexpected bonus.
With three continuous days of rain this last week more time has been spent preparing the new DVD which will be entitled 'A Bird for All Seansons' and will include eighty species of birds seen through a Pennine year. There will be some remarkable film on it from Buzzards feeding an Adder to their young to a female Barn Owl with a young on her back.
There has been an exodus of Grey Wagtails from the hills during the week with birds feeding on Hopwood and along the canal.