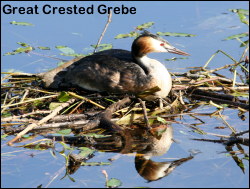 More time has been spent this week looking for Hobbies but all to no avail. I have now given up all hope of including one in this years Pennine DVD so we will have to settle for fourteen species of raptor on it and not fifteen!
It was however pleasing whilst in Macclesfield forest to see that some pairs of Great Crested Grebes still had young.
Hopwood has starred this week with a record of fifty two Mistle Thrushes present on the 26th and a Kingfisher on the 22nd. Both Buzzard and a male Blackcap have also been seen during the week. At the same time there are still two broods of Swallows in the nest at the golf club adding to the more than fifty young that have fledged there this year.
In the garden we have had a record seven Chaffinches on the 24th and some nights a Tawny Owl has been present. On the 24th it was a full moon and we lay in bed watching the clouds scurry across the moon at midnight awaiting the arrival of the Tawny Owl but of course it did not show up that night.