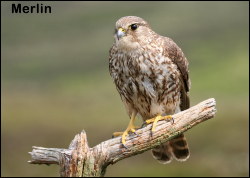 On three good days this week I spent time in the Goyt Valley and on the Staffordshire moorlands looking for Hobbies. Only a female Merlin was seen, which in itself is always a good bird sighting but not what I was looking for! According to the bird press Kestrels are down in number by 53 percent in the last two years due mainly to the two,hard Winters that we have had. Well on one day alone I saw fourteen different Kestrels and as most were young birds they will be a welcome addition to the falling population.
The Swallow roost that I have been watching has now increased to more than a thousand birds as the young birds fledge and join the the existing Swallows that are beginning to head South. I obtained some good video of them against the rising moon on the only night the moon was visible.
On Hopwood on the nineteenth was a record flock of forty Mistle Thrushes feeding on rowan berries. A Whitethroat was still giving alarm calls by a bramble indicating late breeding.