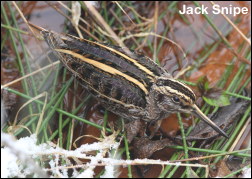 During the week we have had fantastic Winter weather culminating with a snow cover of eight inches this morning. Everyday I have been searching for wild life, mostly close to home, having encountered one Woodcock, twenty four Snipe and ten Jack Snipe. Best of all was the close encounter with one of the Jack Snipe, only the third I have managed to film in forty four years. The tiny wader froze as I filmed through the snow from only ten feet away. The photo shows the stripes down its back and even the purple iridescence shows up. It was an absolute gem and certainly the Holy Grail of the Winter bird world.
Since November we have never had less than twenty species of birds feeding, per day, in the garden. With the deep snow cover on the twenty sixth we were to put the garden record on the shelf for ever. All the common species fed plus Willow Tit, Reed Buntings, two Song Thrushes then two male Blackcaps chasing each other. A Grey Wagtail fed in the outside grate for the third time this week. Two Redwings arrived in the sycamore at the rear of the garden as a Mistle Thrush fed on a cotoneaster in the front garden. At 3pm, from nowhere, a Fieldfare dropped in and ate one and a half apples in fifty minutes. This was the fifth thrush species of the day and the twenty seventh different species to feed in the garden on the 26th. The January total now is an incredible thirty different species.
On the 24th I was pleased to watch five Waxwings feeding in Bury. There are now only a few left in the country and I hope that these five will not be my last sighting of the Winter.