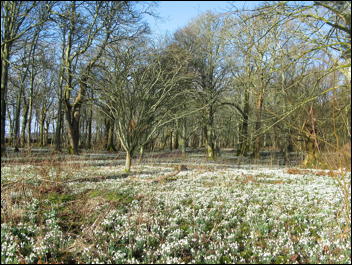 A week on Islay has coincided with the snowdrops at Bridgend being in perfect condition. As usual amongst them were some fine examples of Scarlet Elf Cup fungi. Three Bullfinches were feeding on the buds of a shrub in an adjacent garden.
The first wildlife photo of the week was of a Mink, on a loch edge and this is bad news for Islay's wildlife as mink are vicious killers. The local gamekeeper has been suitably informed. A group of Red Deer stags close to the road provided a photographic bonus. Despite some searching only one Otter has been seen and this stayed its distance.
Along the coast both Glaucous and Iceland Gulls have been encountered along with Purple Sandpipers and Dunlin.
Raptors are always an attraction on Islay and Hen Harriers have been seen almost daily. Golden Eagle and Sparrowhawk appeared regularly but the highlights have got to have been the pair of Sea Eagles on a rock as we sailed up the Sound of Islay. The wild weather has produced few sunsets but snow on the ground one day was an unexpected attraction. Click here for some of this week's photographs