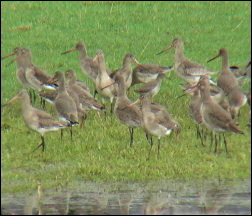 Whilst at Leighton Moss during the week I took the opportunity to watch a Glossy Ibis that was feeding in the corner of a field. I have never seen one before and whilst it was interesting to see I would have preferred a Bittern any day. At high tide Black Tailed Godwits left the shore to feed in a flooded field by the reserve. They were feeding at a rapid rate and as soon as the tide turned they flew back to the shore line. As for Bitterns, there were none visible once again!
Along the canal during the week were a pair of Goosanders, a Grey Wagtail and up to eight Pied Wagtails . A Fox was also present. On Hopwood was a Dipper, feeding along Trub Brook, the first I have seen there for more than a year.
The garden has been very active this week with three days when twenty one species of birds were feeding. Included in those were eight Long Tailed Tits, two Reed Buntings, four Bullfinches, Wren and the first Goldcrest for more than a year.