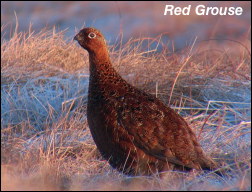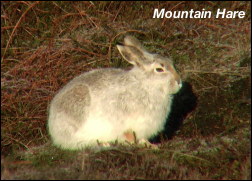 Two superb frosty and sunny days with very little wind. Just the conditions I had been waiting for to venture onto the top of the Pennines in search of Red Grouse and Mountain Hares. Saturday was the best of the two with good numbers of hares resting in their forms in the pleasant sunshine. As usual they do not allow too close an approach but with careful stalking they may be approached to about thirty foot. One allowed a much closer view but unfortunately it was in such deep cover that only its eye could be seen in heavy white frost.
As I was about to leave the moor a white movement caught my eye and this was no Mountain Hare. It was an Ermine ( White Stoat) and only the third I have ever seen. I was certainly not expecting such a creature at an altitude of one thousand two hundred feet. Unfortunately, though I saw it on three occasions it was searching a rushy gully for food and failed to perform for the camera. I checked the same area the following day but there was no sign of it. Whilst I was on the high tops three skeins of five hundred,two hundred and one hundred Pink Footed Geese flew over in a North West direction.
At dusk, on Hopwood, both Woodcock and Jack Snipe were present in areas that remained clear of ice.