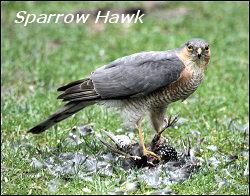 Well it had to happen – the male Sparrowhawk returned and caught a Starling on our lawn. It was a gruesome event, with the Starling still alive for ten minutes as it was being eaten. I filmed it from twenty feet through the window in the house but how could I ever show it? I have been filming raptor feeds for thirty five years and have never been bothered but to see the capture and the prey still alive I felt very sorry for the Starling. Apart from that the Starling was one I had fed all Winter!! This week's photo is one of the still photos I took of the event.
Only two inches of rain this week so perhaps the weather is improving.
There are still Woodcock on Hopwood and at Dovestones one hundred and twenty plus Siskins were present. On the roof of an Indian restaurant in Oldham were two hundred plus Lapwings. – where else would one look for Lapwings in Winter??