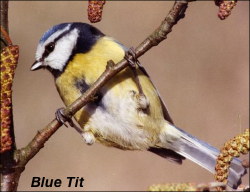 Dull and uninteresting weather this week but the garden has made up for it on the twenty third. On a very mild day we were graced with twenty Goldfinches, fourteen House Sparrows, ten Starlings, ten Long Tailed Tits and a record eighteen Blue Tits. Not forgetting a very active Goldcrest!
My usual circuits of all the Rowan trees in Middleton and Chadderton failed to produce any Waxwings. However, on a shopping trip to Rochdale on the twenty third six were feeding on Rowan berries at the junction of Manchester Road and Tweedale Street. This being a notorious area where three years ago I was accosted by prostitutes and people throwing fridges from upper floor balconies I decided to give them a miss!!
At eight am on the twenty fourth three male Goosanders landed on the canal for the second time this week.
No filming on the twenty fifth as even serious film makers are entitled to one day off. But if Waxwings appeared well……..?