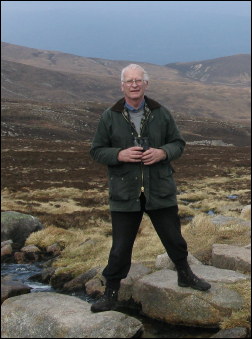 Last year's newsletter started with the problems caused by rain. As we are all by now aware this year has even surpassed that by producing the wettest year ever recorded. However, despite all the odds I have had an exceptional years filming.
It started back in January by finally getting to grips with the Pennine bird that has eluded me for more than forty years, the Hawfinch. They really are spectacular birds with that amazing bill and all the early mornings in the frost waiting patiently for them under their favourite Hornbeam trees were worth while when the film was viewed.
I always enjoy my February lecture tour for the Scottish Ornithologist club and this year it was the penultimate one. After thirty years of wandering around the hills of Galloway I finally had good views of a Great Grey Shrike. It was a good Winter up there for Crossbills and I had some rewarding encounters with them as they drank in roadside pools. How I am going to miss this tour in the future and all the friends I have made and stayed with over those thirty years. There are not many places in Britain where you can have your evening meal as you watch a Hen Harrier and Peregrine go to roost and a Barn Owl commences hunting!
A non birding trip to Speyside in March produced a close encounter with Ptarmigan as we walked up Cairngorm and by the time we arrived at the top we had one very tired Golden Retriever. As usual the Grants Arms was excellent and we are due back there next March when some birds will be on the menu (not literally)!
While England sank under the deluge our trips to Islay produced fantastic weather and lots of filming. I took time out to inspect the seabirds on the West coast and was pleased to see that all the Kittiwakes had healthy young, indicating a good food supply. As usual Islay's orchids were outstanding and we even returned in late July to admire the Marsh Helleborines.
The later part of the year has been livened up by the arrival of my favourite bird the Waxwing. I had forgotten how good it was to watch a flock of over a hundred descend on a Rowan tree, only feet in front of you to devour the berries. The flight shot on my blog on December 16th is one of my favourite shots of all time.
The undoubted highlight of the Pennine year was the finding and filming of a female Barn Owl who had laid her eggs on the ground in a corner of a barn. Daily filming was taken of her as her eggs hatched and the young even climbed out on to her back and inter acted with a singing Swallow on a beam above. It was one of the most exceptional events I have ever seen in more than forty years of filming Raptors and highlights our latest DVD 'A Bird for all Seasons'. This will be our last DVD and incorporates seven years of filming as it follows the lives of eighty species of birds through the seasons of the year. It is proving very popular and one purchaser informed me that he had already watched it thirteen times since he had purchased it twenty days ago!!! My DVD can be purchased through my website or telephoning me on 01706 631770.
I would like to wish you all a very Happy New Year for 2013.