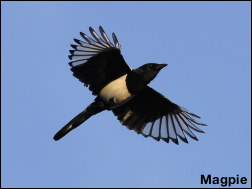 This Magpie was seen to take a Waxwing from the flock at Hulme this week. Always an opportunist feeder it made a quick move and sadly there was one less of my favourite birds to savour. Having said that at 8.15am on the 28th November there was an incredible 230 Waxwings present in one tree. Whilst spending hours during the week in Hulme I was amazed at the other birds that inhabit the estate. A female Sparrowhawk was always a threat, fourteen Long Tailed Tits fed in the gardens plus a wintering male Blackcap that was devouring the heavy crop of berries of a privet.
The highlight of the week was the return to the garden of the Willow Tit for the sixth Winter in a row. Where it goes for the rest of the year is a mystery. In addition on five days we had more than twenty species feeding,, peaking at a near record of twenty three species on the 2nd December, thanks to the re-appearing Willow Tit. On the canal nearby we also had a pair of Goosanders at dawn.
A drive to Wetherby on 2nd December produced sightings of five, Kestrels, four Buzzards and a Kite. Good to see the Kestrel was back on top.