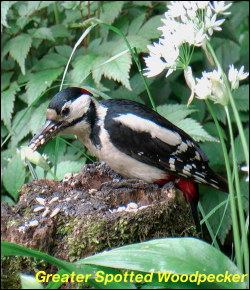 The star bird of the garden this week has been this Greater Spotted Woodpecker who has been taking away large amounts of food to feed his young still in the nest on Hopwood.
I have spent the last eight nights filming a pair of Tawny Owls that had two young about to fledge. Normally it becomes quite cold towards midnight but on one occasion I filmed from the hide in a short sleeved shirt. I have never in forty years seen such exceptional weather in May and on the last night the full moon appearing at 10pm made it even more memorable. However, it did not stop the female Tawny Owl attacking me as I packed up my equipment in the moonlight.
On another day I filmed a pair of Nuthatches feeding young in an old Green Woodpecker hole that they had plastered with mud to reduce it to the exact size they required. Feeds were every few minutes and a photo will appear in next week's blog.