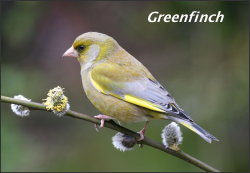 With no recorded sunshine in the last seven days, this month has to be one of the dullest and wettest ever recorded.
Over a dozen Greenfinches are now feeding in the garden and three Jays come regularly for peanuts. At dusk one evening a young Tawny Owl was calling for food in some beeches at the back of the garden. The adults were visible against the darkening sky as they fed it.
I was awoken one morning by a calling Curlew as it headed off the moors to the coast. Skylarks and Snipe are now also moving through.
On the local golf course parties of up to a dozen goldfinches are hunting the thistles for seeds and good numbers of Siskin are still around. A family party of six Stoat have also been seen.