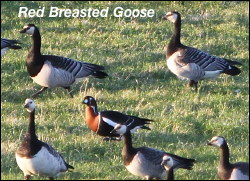 There is little doubt that one of the greatest bird spectacles in Europe in Autumn occurs on Islay as 50,000 Geese arrive from their breeding grounds in the Arctic. Added to that the sight of more than 100 Whooper Swans in one field is another spectacle not to be missed.
Autumn is a time when birds are on the move and while watching the Geese arrive from the North other birds like Swallows, Whinchat and Wheatear are starting their journeys to the South. This year the Geese have brought a very special bird with them from Russia in the form of a Red Breasted Goose. Although more than four hundred yards away at the time I managed to take a still photo which shows it to be smaller than the Barnacle Geese which it associates with.
Islay is famous for its Raptors and although we failed to see any Eagles last week many other birders on the island were successful. We did, however, see many Hen Harriers and one morning saw six different species of raptor in less than two hours.
Not many visitors to Islay come for flowers in the last week of October but during our week we have found sixty two flowering plants. Included in this total have been Autumn Gentian, Pansy and even a Bluebell!