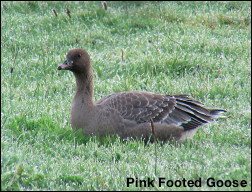 During the evening of the sixth Pink Footed Geese called from the darkened sky. The following morning, below some pylons, was a Pink Footed Goose with a broken leg presumably having hit the overhead wires the night before. Whilst it sat on the ground it still fed all around it and several hours later it had gone, so lets hope it flew off on its own accord and was not taken by a Fox.
On Hopwood there have been two Green Woodpeckers, Redpolls, Buzzard and plenty of Jays. Sunshine on the nineth produced late Speckled Wood and Comma butterflies.
In the garden there have been the eleven Long Tailed Tits and a record four Coal Tits. There are now two Foxes coming to next door's garden.