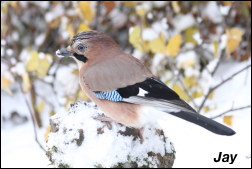 This weeks photo is one of the garden Jays taken during last months harsh weather. Its colours seem to stand out better in the snow,
Not much birding done this week as I have had a very heavy film show schedule with two shows during the afternoon. However, the garden has again produced twenty species on two days. On the 26th we had fifteen Greenfinches and a garden record of six Bullfinches ( three males and three females). A friend called with a female Sparrowhawk that had just broken its neck through flying into his window. We were examining this in the garage when he exclaimed that he had just seen a Willow Tit on one of our feeders – a first sighting in Rochdale for him but a bird we now take for granted.
A visit to the hills on the 28th produced a Kestrel and two hundred Pink Footed Geese flying westwards. On 29th even though the temperature dropped to minus four overnight no Snipe or Woodcock were encountered locally. I received a report from golfers on Hopwood that on the 22nd they released a large hawk that was caught by its jesses on a barbed wire fence. It is a pity they didn't remove the jesses at the same time to give it a sporting chance.