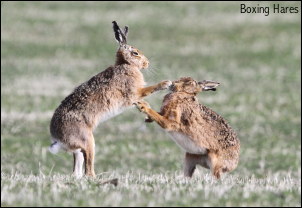 Boxing Hares were not what I was expecting to encounter on Islay in late April but with the extreme weather of late no boxing had taken place so far this year as many of the hares had failed to perform! I was extremely lucky to find  a group of eight that gave me plenty of action over a thirty minute period. There was no repeat the following day as the farmer had put his sheep into the field and the Hares had promtly dispersed.
This year Spring on Islay is a good four weeks later than normal and it was strange to see thousands of Barnacle Geese and Redwings feeding in the same fields as Wheatears and Swallows. With strong North winds and sleet showers it remains to be seen whether these Summer visitors survive and as we left on the 27th several Cuckoos and Corncrakes were calling with little or no cover to hide in.
An Iceland Gull was still present on the island after making its tenth annual visit and I should imagine there will be no rush for it to return to the Arctic to breed.
We made two determined efforts to find Otters and on both days succeeded so increasing our hit rate percentage for this fascinating creature. There was no point keeping a flower list even though we did find some Bluebells! Let's hope the seasons catch up before our return visit in Summer.
To view more photos taken while I was on Islay click here