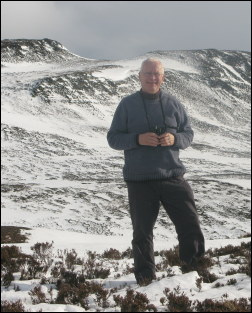 Following two record breaking years of filming there had to be an anti – climax and it happened this year due mainly to one thing – RAIN. The year started with only the occasional snowy day and little in the way of frost, we had been spoiled by the exceptionally cold conditions of December 2010.
We enjoyed our annual February visit to Islay but it was the wettest we had ever had and as a consequence filming was less than normal. This was made up for in March when we visited the Cairngorms, hopefully to film them in deep snow. It was absolute perfection as more than a foot of snow fell on our second day. The scenery was spectacular and we enjoyed filming Snow Buntings and Crested Tits in their true environment. We were so impressed with the Grants Arms at Granton on Spey that we are going back there in March.
April arrived and produced the only decent weather of the year with record breaking temperatures and sunshine. The breeding season was under way and I obtained some great film of a Green Woodpecker as it started to drill a hole in a living Oak tree. It is something I have not even seen on television and it was amazing to witness its first attempt to chip its way through the bark before the real digging began.
In May we returned to Islay for our Spring visit, again it was the wettest we have experienced at that time of the year. It was a very welcome break, as it is always good to visit Islay, but it didn't produce much filming. The rain continued when we returned home but thankfully it didn't prevent me from obtaining my best filming of the year when I found a Woodcock brooding young in a Pennine Oak wood. Knowing the young would not be in the nest the following day I had to wait three hours for the rain to ease before commencing filming from my hide. As there are now only half the Woodcock that there were ten years ago this might have been my last chance to film one at the nest. The female and four young performed magnificently and within ten minutes they had all left the nest and disappeared into the surrounding Oak leaves.
Even though the wet weather was still with us for our June visit to Islay I obtained some fantastic film of a male Short Eared Owl carrying prey back to the female in her nest. Just before he reached the nest he transferred the vole from his talons to his bill so that he could pass it to her in the nest. I spent more than ten days filming just the last ten foot of his journey and besides obtaining the video I wanted I was also taking still photographs and finally captured the shot I was after.
Back home in the Pennines it continued to be wet. My regular pair of Kingfishers, having survived the extremely low temperatures of last December, attempted to raise three broods of young. This is something I have never proved before. They would have been successful but the day before the young were due to fledge a flash flood drowned the young whilst they were in the nest chamber. Still, rearing two broods in the year I suppose is good enough.
Most of my year's filming has been directed towards my lastest DVD on Raptors. There are sixteen species of Raptors on the DVD having been filmed in the Pennines, Cairngorms, South West Scotland and Islay for a in depth look at that exciting family of birds. The response so far from the people who have seen it has been tremendous, with all saying it is the best production yet. When you considered that I have spent three hundred hours working on it and Pauline has spent one hundred and fifty hours then perhaps our time has not been wasted!
It can be ordered through my website. www.gordon-yates.com
It was a sad time in the garden in late Summer when most of the finches were affected by Trichomonosis. Feeding had to be stopped and we are now only just back to normal and it was pleasing to see that four healthy Bullfinches have been feeding together this week. The Willow Tit has not returned this Winter but perhaps there is still time.
Sadly, during the year two of my long standing photography colleagues have died. Colin Smith was a supreme technical expert and always clarified any problems I had over the years, especially recently in the digital era. Gordon Langsbury was always enthusiastic and brightened up many a dull Winter's day with his telephone calls. Both will be sorely missed.
I would like to take this opportunity of wising you all a Very Happy New Year