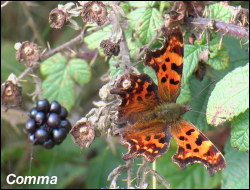 This photo shows a Comma Butterfly on some blackberries just after the sun had melted the first frosts of Autumn on the 25th
It seems to have been a butterfly week with up to five Speckled Woods on Hopwood on several days and a Red Admiral in our garden.
On Hopwood more Skylarks have been heading South. Bullfinches are enjoying the Autumnal fruits with a party of five feeding on some blackberry bushes.
In the garden the Nuthatches have only returned once during the week. Collared Doves have again topped twenty and the immaculate male Sparrowhawk is back plus at least one immature bird.