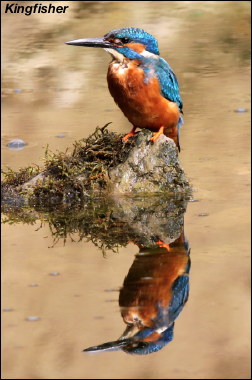 With more than nine hours of sunshine per day this July has been the sunniest I can remember and with the late breeding season I have never been as busy. I have spent three hours each morning this week filming a male Kingfisher as he fed young that were about to fledge. As we have had no wind all week I was looking for reflections in the water and conditions were perfect producing the best results I have ever obtained. (Click here) I can think of nothing better on a classic Summer's morning than spending time in the presence of a male Kingfisher.
During the week the three young Sparrowhawks have fledged on Hopwood with the single young Buzzard now ready for its maiden flight – this will make it the first local breeding record during the last century! Also on Hopwood there was a singing Grasshopper Warbler, the first I have heard locally for more than a decade and a bird which is in short supply this year.
In the garden a fledged party of four Robins have appeared – the second successful breeding of our local Robins this year. Reed Buntings, Redpolls, Bullfinches and Coal Tit are all still feeding on a regular basis.