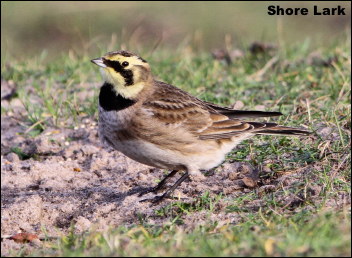 The visitor from Lapland was not Father Christmas this time but a Shore Lark that has spent the last couple of weeks on the Fylde coast. I only twitch Arctic birds and the trip to Fleetwood was well worth while with some great views of a very confiding bird. A couple of Snow Buntings were also present plus a small group of Sanderling that were crouching on the beach away from the strong westerly wind. Click here
The motorway journey to and from Fleetwood provided a reversal of the normal trend with six Kestrels seen and only three Buzzards. I know the Kestrels have had a good breeding season but the more likely reason for seeing more Kestrels was that the Buzzards were avoiding the strong wind by not flying.
Locally a pair of Goosanders were on the canal on the 22nd and on Christmas day we had a record four Dunnocks together in the garden plus 2 Reed Buntings.