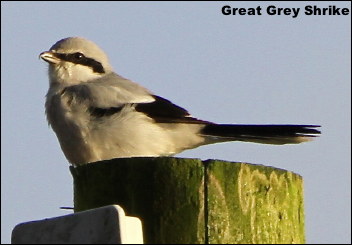 Yesterday in the Ribble valley I had a chance encounter with a Great Grey Shrike or Butcher Bird as it is sometimes called. It was some way off on top of a pole and was watching the same five Goldcrests that I was watching along the edge of a pine forest. Once it catches prey it impales it on hawthorne bushes in a sort of larder then comes back to eat it when it is hungry hence the name Butcher bird. They are not that common in winter but one did appear at Watergrove reservoir last year. I only wish it was possible to approach it closer to get a better picture on something more natural.
Whilst I was in Bowland I also came across some Bramblings feeding with the roadside Chaffinches. You tend to forget how colourful these finches are and this weeks gallery includes some drinking shots as a reminder. click here
During the week a new bird was almost added to the garden bird list when a Buzzard flew to within ten feet of landing in our pine tree. A Grey Wagtail fed on the lawn one day and it is good to see that the Willow Tit and both Nuthatches are still feeding daily.