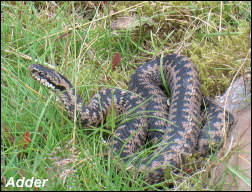 Taking a break from the search for the Hobbies I visited my old site for Adders during the week and was not disappointed. Six Adders were seen including four females together in some rushes alongside a drystone wall. I returned several times to film the interaction between these females and was surprised to find that the first female arrived on the mossy slope as early as 7.20am when there was still a heavy dew. It was most satisfying to sit within twelve feet of these venomous creatures and know that they had no idea I was there. Whilst watching the Adders five Crossbills and a Peregrine Falcon flew overhead.
In the garden there are still many juvenile finches coming to feed and our garden record for Chaffinches increased to fourteen and a couple of days later rose to fifteen. It was only a few years ago that we hardly ever had a Chaffinch in our garden. Close by the garden is Norton Grange Hotel and on the 31st a Green Woodpecker called from their grounds – will one ever appear in our garden?
By the M6 at Preston is the Lancashire Wildlife Trusts new reserve at Brockholes. I visited it during the week as a Hobby had been seen trying to catch Sand Martins in their artificial breeding bank. No Hobbies were present on my visit but I would recommend the centre to anyone.