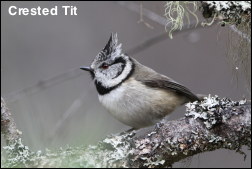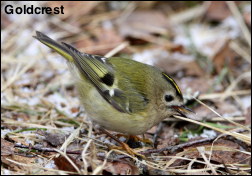 We have just returned from six days in the Spey Valley with snow flurries most days but good sunshine and a temperature of -6°C on Friday.
Walks in the Caledonian pine forest produced good sightings of Crested Tits with plenty of photos taken. In addition a Goldcrest fed on the ground below the feeders put up for the Crested Tits and several times fed between the legs of my tripod! It was amazing to watch our smallest bird at such close quarters without any fear in my presence. At Loch Garten on 27th March the female Osprey arrived back from Africa to claim her nest for the season. Unfortunately, with the low overnight temperatures all the Lochs were frozen and her fishing will have to be done on the river Spey.
In the Findhorn Valley a Golden Eagle made an unsuccessful attempt to catch a Red Grouse which was in a flock of sixty birds. In was a spectacular sight to see them all take off over the snow in panic. On another sheltered slope one hundred and eighty Red Deer were grazing and I have never seen such a large gathering before. On the open moor two Red Kites were present plus five Bullfinches, which were feeding on heather seeds.
With heavy snow on the Cairngorm mountains it was impossible to go searching for Ptarmigan and even the Snow Buntings failed to put in an appearance . However, with perfect Wintry weather Speyside is a magical place to visit.
You can see more photos from this past week on my Facebook page by Clicking Here