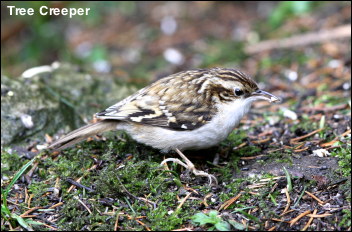 After forty five years of feeding birds in the garden on the fifteenth a new bird fed all afternoon – it was a Tree Creeper. Luckily it came several times to eat the bits off the fat balls that were on the ground and I managed to take a photo. IT was a one day wonder and has not returned since so I was very fortunate to be at home that afternoon.
Most of the week has been spent watching Waxwings around Rochdale with over eighty birds being present on several days. Unfortunately very few photographs were obtained and one freezing day I waited two and a half hours along side a berry laden bush and every time the Waxwings fed on the other side of bush where all the traffic was! To make matters worse it was my birthday.
On a calm sunny morning I ventured onto the high Pennines to search for Mountain Hares in their Winter coats. It was a fabulous morning and I came across many hares with one in its form enabling me to obtain some good close ups of an animal I respect and admire in having to survive at that altitude. The Red Grouse were also very active and several Golden Plover had returned to their old breeding sites, although with the snow that has followed they have nor probably returned to lower pastures.