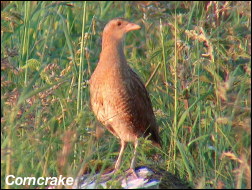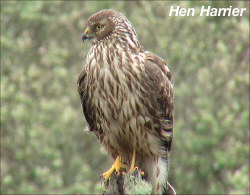 Our last week on Islay and still the cool weather prevails. It Is difficult to believe that after being here for three weeks we have not seen a temperature in excess of 18°C and have had in total seven days of rain.
After some searching I managed to film a Corncrake calling away in the open at 10pm one evening. There were good numbers of Corncrake on Islay this year and one was seen with twelve young on the 24th.
During the last three weeks I have spent in total seventeen hours in a hide hoping a female Hen Harrier would alight on a post near her nest. On most days it did not happen but then on one occasion she spent ten minutes on it preening. It was a long time to spend looking at the top of a post but when it works it was all well worth while. However, on one occasion when we arrived at the nest site the male Hen Harrier was on the post and of course he did not return while I was in the hide.
The flower season on Islay is very late this year and as we were leaving we found incredible numbers of Frog and Pyramidal Orchids at Killinallen and one hundred and seventy one Greater Butterfly Orchids flowering in one small area at Bruichladdich.