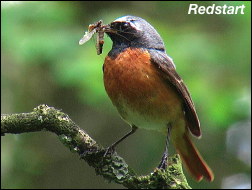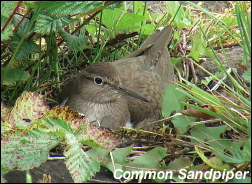 One day during last week I was filming Redstarts and Pied Flycatchers in the Forest of Bowland. The deciduous wood had at least eight pairs of each breeding and it was an absolute delight to await their next return to the nest with an ever changing array of insects and caterpillars. While the colours of the male Redstart are amazing it was the male Pied Flycatcher that took the prize for the most visits. During the hour I was at his nest he fed the six young at least once a minute, sometimes much less. Just to be in this wood with all the bird song and no man made noises is what early Summer is all about.
Another day I spent on a moorland reservoir filming Common Sandpipers and Little Ringed Plovers. Both species had eggs about to hatch, with the Plover's nest vulnerable to any increase in water levels so lets hope we have a dry spell during the next few days. What was pleasing was that while I was filming a Snipe was displaying overhead on the neighbouring moor and I also found a great specimen of Butterwort in full flower and the first I have ever seen in the Pennines.
In the garden Goldfinches are now bringing their first broods of young to feed and hopefully more to follow during the Summer.