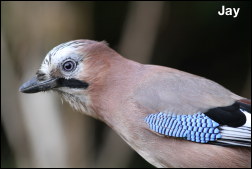 That's the number of Waxwings in one tree at 8.30am in Hulme, South Manchester on the 24th. Its the largest number of Waxwings that I have seen since the big invasion of 1996 when more than 300 were present in Stockport. I spent nearly an hour watching them feed on a white berried Rowan and it would have been good to film but there was no light available.
This weeks photo of a Jay shows what can happen when you are filming with fixed focal length lenses. I was set up in the garage hoping to film a Nuthatch at a range of only eight feet. When a Jay appeared it was a case of only head and shoulders with a 300m lens. For years I have used a zoom lens which would have easily coped with this situation. It just shows that by obtaining a better quality fixed lens other considerations come into play, such as image size.
On 21st November we had twenty one different species in the garden including eight Long Tailed Tits, two Goldcrest and a Reed Bunting. Whilst there are more birds beginning to feed we still have only a handful of Goldfinches feeding and one male Bullfinch. Perhaps when the snow comes we will see an increase?
My latest DVD 'A Bird for All Seasons' is now available to purchase through my website.