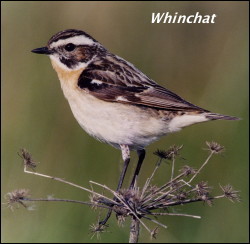 What a spectacular week of Autumn weather with sunshine, no wind and no rain!
Last weekend we had our Ruby wedding and a funeral to attend and covered more than six hundred miles on motorways. However, it did enable us to prove that the Buzzard is the commonest raptor in Britain with sightings of one Sparrowhawk, five Kestrels and nine Buzzards.
On the local streams two Grey Wagtails have been feeding all week.
The bracken on the Golf Course produced not one but two new birds on the 27th September when two juvenile Whinchats were present and a Willow Warbler all catching insects in the early morning sunshine.