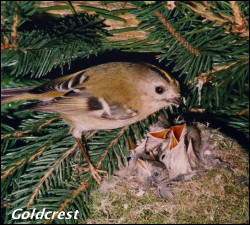 Rain, rain and more rain can this Summer get any worse?
Much better weather this week and the first Goldcrest of the Autumn was in a pine tree in our garden. At 5.00am one morning the young Tawny Owl was again calling for food before settling in it's diurnal roosting place.
In the local woods and Golf Course a well grown Leveret was found and it is good to know that the local Hares are back and doing well. More Goldcrests have arrived with an East wind and a flock of twenty plus Siskins were present feeding in birches. Two Kestrels were hunting voles, one of them stood on top of the flagpole on the green!
Without doubt the highlight of the week came from a willow bush on the Golf Course. A small bird was scolding and finally showed itself to be a Willow Tit, only the second I have ever seen locally, the last being in our garden a couple of years ago. Will it stay?