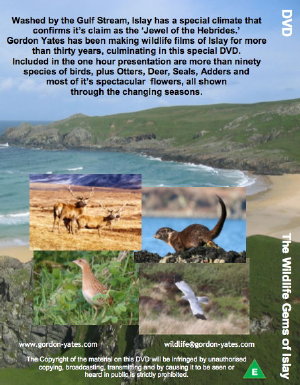 After a Winters work the DVD 'The Wildlife Gems of Islay' is now available for sale. For those of you who don't know, Islay is part of the Inner Hebrides, off the West Coast of Scotland and is inhabited by approximately 3200 people. It has eight working whisky distilleries, stunning scenery, amazing wildlife and friendly people.
In the last two years I have spent nearly half a year on Islay incorporating all the seasons and amassing fifty four hours of material. It has been a ruthless task to reduce this to one hour but the finished product now portrays a good insight as to what Islay has to offer.
The DVD is for sale at £15 plus postage and packaging.
You can view a two and a half minute introduction of The Wildlife Gems of Islay on the DVD Movie page.