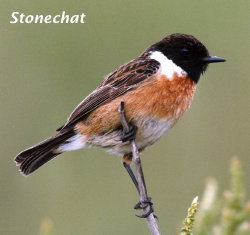 January has come and gone with less than one hour of sunshine per day – one of the dullest Januarys on record. Its a good job I don't need sunshine on video!
A day out in Bowland produce Sparrowhawks, Kestrels, Goosanders, Woodcocks but no Eagle Owls.
Over our house on the first February was a Peregrine – the first I have ever seen from the garden. The male Sparrowhawk has been active again, this time catching a Great Tit to add to his tally of garden kills. However, it has not stopped the birds feeding with peaks of twenty seven Goldfinches, fourteen Blue Tits and twelve Blackbirds. A Song Thrush was the first of the Winter.
On Hopwood was the Green Woodpecker, Dipper, Siskin and the first passage of Skylarks moving North East. A male Stonechat gave a splash of colour one afternoon to add to the Corvids that peaked at one hundred and fifty Jackdaws, fifty Rooks and fifty Carrion Crows going to roost on the first February.