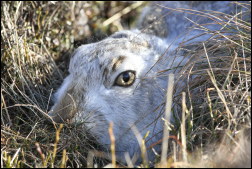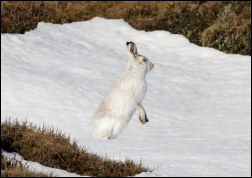 Last week I mentioned the Mountain Hares and I now show one in its form and the other about to run.
During the week the East wind has continued to blow and the Waxwings have been held up. There were ninety four in Rochdale on the seventeenth, sixteen near Hollingworth Lake on the eighteenth and I even found twenty two at dawn on the twenty first in Bacup. On Hopwood there was a Woodcock on the twentieth together with two Goldcrests and Two Buzzards. Better still Long Tailed Tits were building a nest in a gorse bush – the first I have found this year nearly three weeks later than last year.
Today we have had snow for most of the day and a record five Robins were feeding in the garden together.