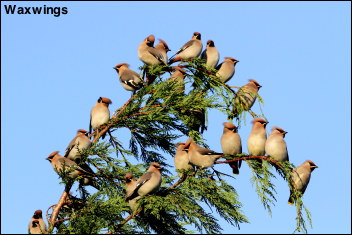 What a Winter it has been for Waxwings with good numbers of them waiting for the strong East winds to drop before returning to their breeding grounds. On the sixth I watched twenty seven feeding in Newhey and better still on the ninth seventy three fed all day on berries in Milnrow. I have to feel sorry for a fellow Waxwing enthusiast who, all Winter long, has checked the Milnrow bush for feeding Waxwings and the very weekend he goes on holiday they appear and clean up – that's the sort of luck I normally have!
During the week the garden birds have been fantastic with twenty five different species feeding on the eighth. These included our single Willow Tit together with three SIskins, two Song Thrushes, four Jays,seven Bullfinches (four male three female) and a record six Reed Buntings.
On Hopwood two Woodcock were still present on the ninth with all the usual water filled hollows containing frog spawn. Let's hope it doesn't freeze!