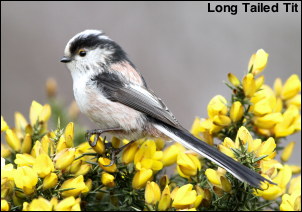 With two months of freezing easterly winds it is not surprising to find that very few birds are nesting. So far I have found only one Long Tailed Tits nest – that being in gorse on Hopwood. Following the exceptionally mild Winter of the 1980 I found twenty five Long Tailed Tits nests before the end of March! The photo is one of the pair that had been lining their nest with feathers – a good three weeks later than normal.
During the week two Woodcock have been seen, including one on Hopwood. Normally an April Woodcock would be a breeding bird but with Springs's cold weather it might still be a Scandinavian migrant. On the 12th I also saw my largest flock of Fieldfare this Winter as sixty birds headed eastwards over Hopwood.
There is no doubt that the garden has provided us this Winter with exceptional quality of birds and this week it has continued. On the 10th we had a record ten Siskins feeding together plus three Dunnock, followed on the 12th by seven Bullfinches – all record numbers after forty five years of feeding. In fact since mid November we have never had less than twenty species feeding daily in the garden in an area twenty feet by fifteen feet!
To check our more photos from this week, visit my Facebook Page by Clicking Here