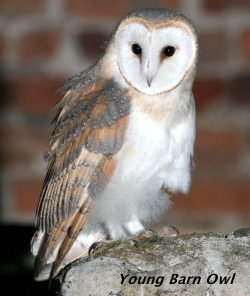 This weeks photo is of the last Barn Owl to fledge from the five that have flown locally. The tiny black specks down the flank of the young indicate that it is a female – the males breast being completely white. What with the extremely wet weather this week and the Olympics I have only managed two visits to the site this week and there are now only two birds present, these being the adults. The young having been driven away from their breeding territory.
In the garden there are fourteen Greenfinches feeding and the first two Jays have now appeared but very few Goldfinches.
On the local Golf Course Skylarks are now moving through and a Wheatear was on the first tee one morning this week. A family party of Kestrels were also mobile looking for voles.