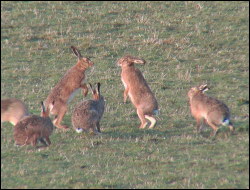 Our last week on Islay and after several early mornings the Hares were boxing. There were six chasing around and sometimes would jump into the air but never caught on camera.
With the wind finally turning South West there has been a flood of birds moving through Islay. Flocks of more than five hundred Golden Plover, two hundred and eighty Brent Geese and hundreds of Black Tailed Godwits, with Whimbrel just beginning to appear. Most of the raptors have been seen but following the severe Winter many are breeding weeks later than last year with a pair of Barn Owls laying their first egg five weeks later than last year.
On the sail back to the mainland twenty eight Great Northern Divers were seen from the boat in only one hour watch.