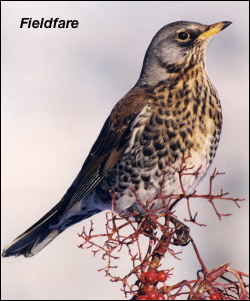 On the coldest day of the week I took some great film of a Fieldfare eating Hawthorne berries on a bush in the local hotel car park. Normally very wary this Fieldfare posed beautifully for the camera and having filmed Ring Ouzels in Spring and Blackbird,Redwing, Song and Mistle Thrushes last week this completes all the British thrushes in one year, something I have never managed before in thirty eight years.
I went chasing Waxwings at Offerton during this week and duly arrived at an apple tree where three had been feeding the day before only to find that the house owner was having double glazing installed and the windows had already been dropped to the ground next to the apple tree! Only bird present was a male Blackcap and with all the noise it was last seen heading south towards Africa.
The garden this week has been brilliant with twenty different species being seen on the sixteenth including eighteen House Sparrows, Goldcrest, nine Long Tailed Tits, Sparrowhawk and male and female Great Spotted Woodpecker. In fact there were twenty one if you count a Tawny Owl that was calling from the garage roof just before midnight!! Not bad for a garden measuring only twenty five feet by fifteen feet.
On Hopwood during the week there was a Woodcock in the open and six Snipe and a Jack Snipe in a marshy area. Four Gooseanders ( one male and three female) landed on the canal on the nineteenth after the ice had melted.