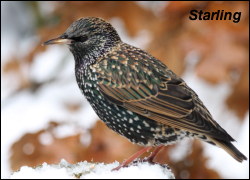 We have just had the best week of Winter weather I can ever remember, coupled with some very colourful sunsets. Three days of minus four overnight plus four inches of snow on the 2nd produced plenty of bird activity and lots of Starlings in the garden with sixty eight in one tree in the avenue!
The ultimate three local Winter birds to me are Waxwing, Woodcock and Jack Snipe and to see all three within two miles of home is what I have termed the 'Grand Slam' and achievable very rarely. Well this week I have done it twice – firstly on the third with nineteen Waxwings in Oldham, two Jack Snipe in the Thornham fields and Woodcock in Hopwood woods. Secondly on the 7th with six Waxwings in Middleton, three Jack Snipe at Thornham and a Woodcock at Hopwood. In fact I also saw a Kingfisher today on Lords Wood lake, which was frozen, so I may have to retitle the Grand Slam to something else!
During the week I have visited Stocks reservoir to film the roost of Starlings. On the first visit there was a magnificent sunset and the Starlings came in low over the water – quite a spectacle but no aerial activity. On the second visit there was six inches of snow but I never got down the last hill to the waters edge. However on the moor above there were two Stonechats and one caught a two inch caterpillar in all that snow.
On the 2nd December the snow had just fallen and we never ventured out of the Avenue. I did however, film thirteen different species of birds in the back garden.
There are now Redwings and Fieldfares on all the hedgerow hawthornes which still hold an exceptional crop of berries. Come on you Waxwings!