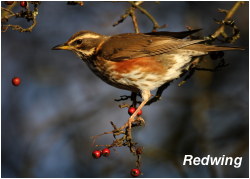 Having photographed a Redwing eating Hawthorne berries during the week I was amazed to find that it dropped two out of every three berries it plucked off the tree. (see photo) It was not surprising that there were other birds on the ground cashing in.
I made three trips to Stocks reservoir during the week to film the Starling roost and got much more than I bargained for. On the first night a Peregrine turned up and had a go at the Starlings and on the second night a male Goshawk alighted right in front of me. As I put the camera back on the tripod a car went past on the road and off the Goshawk went – another one that got away.
Waxwings have finally turned up in Castleton, with seven on yellow Rowan berries in Smalley Street on the twelfth. They were, however, gone the following day!
Two Jack Snipe were present in the Thornham fields and two hundred plus Pink Footed Geese flew eastwards at 9.30am on the fourteenth.