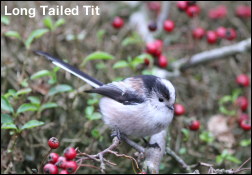 Today the 12th is the first day this year that we have had some decent sunshine. Earlier in the week, with the mild weather, both Song Thrush and Mistle Thrush were in full song.
On Hopwood Woodcock are still being seen and I flushed only my second Jack Snipe of the Winter along one of the fairways on the golf course. Scarlet Elf Cup fungi was out in a small copse of trees nearby.
With lots of fog this week the garden has, once again, come into its own. Long Tailed Tits have been every day and peaked at seventeen on the 9th. A new bird for the Winter was a male Blackcap feeding on a fat square – only the second we have ever had in the garden. Three different male Sparrowhawks have hunted the garden during the week with one clipping the back of my head as I put the food out. A Blackbird was rescued from the talon's of one of these males but another did not fair as well. A redwing even roosted one night in the only pine tree in the garden – a tree that thirty years ago was covered in Christmas baubles inside the house!.