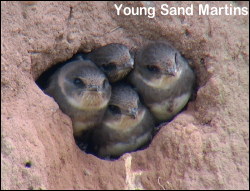 This week I have had several sessions on the local Sand Martins and todays photo shows four young crammed into the entrance of their nesting hole. They have had an incredible breeding season with twenty five/thirty pairs fledging two broods each. It all adds up to more than two hundred young fledged from this one bank on the local golf course – a very pleasing result especially as the whole colony was predated by a stoat two years ago and I thought they would never return to breed again.
In the garden a male Reed Bunting is now feeding regularly along with ten Greenfinches and twelve Collared Doves.
The breeding season is now coming to an end and for most species it has produced record results. The young Barn Owls I was filming last week are now flying around and need some good weather to master the art of catching voles and mice.
The last challenge of the breeding season remains the Hobby so for another week the search continues.