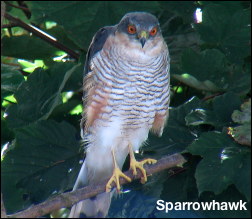 Once again we have in the garden a male Sparrowhawk with deep orange eyes. He has visited us for the last few Winters and if his breast feathers were more orange he would be a text book gem. Needless to say he is not very popular when he hunts in the garden and is chased off whenever he is seen. After being photographed of course!
On the twenty second of September we had a classic early Autumn day with at least two degrees of frost at dawn. There was a record five Buzzards on Hopwood, all very vocal as they rose in the thermals. Apparently there was a massive movement of Buzzards through the Manchester area on that day. Also on Hopwood there was a Green Woodpecker and a singing Chiff Chaff. An influx of Goldcrests was also noticeable.
Along the canal have been two Cormorants. On one day a bird was searching for fish from the wires of the overhead pylons, a good eighty foot above the canal!