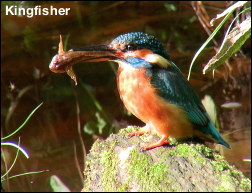 I suppose it had to happen in the wettest Summer for a century that my regular pair of Kingfishers would fail to rear any young this year. They started in March with the first brood being taken by a Mink. A replacement brood was ready to fledge in June then four inches of rain fell and their nesting hole disappeared under ten foot of flood water. A third attempt was made last month with six young due to fledge yesterday. Alas the tunnel was again flooded as a result of last Saturday's thunderstorms. I was there on Sunday and watched the female take fish into the nesting tunnel only to come out again still with the fish in her bill because the young were drowned inside. It is an event I would not want to witness again and I wonder how many more Kingfishers throughout the whole country have had a similar fate.
The most pleasant event of the week was watching two fledged Hobbies trying to catch prey before their long journey South. With a minimum temperature of only 3°C one night they will soon be on their way.
Along the local canal have been one hundred and thirty five Canada Geese and a Chiff Chaff still singing. In the garden a female Blackcap is regularly eating the honeysuckle berries. A local Swift on the 1st September is the latest I have ever seen.